Advanced Gynaecological Ultrasound Course (Infancy to postmenopausal female)
Learn from expert of the field
Instructor: Dr. Alka Ashmita Singhal
Language: English
₹5900
20% OFF
₹4720 including 18% GST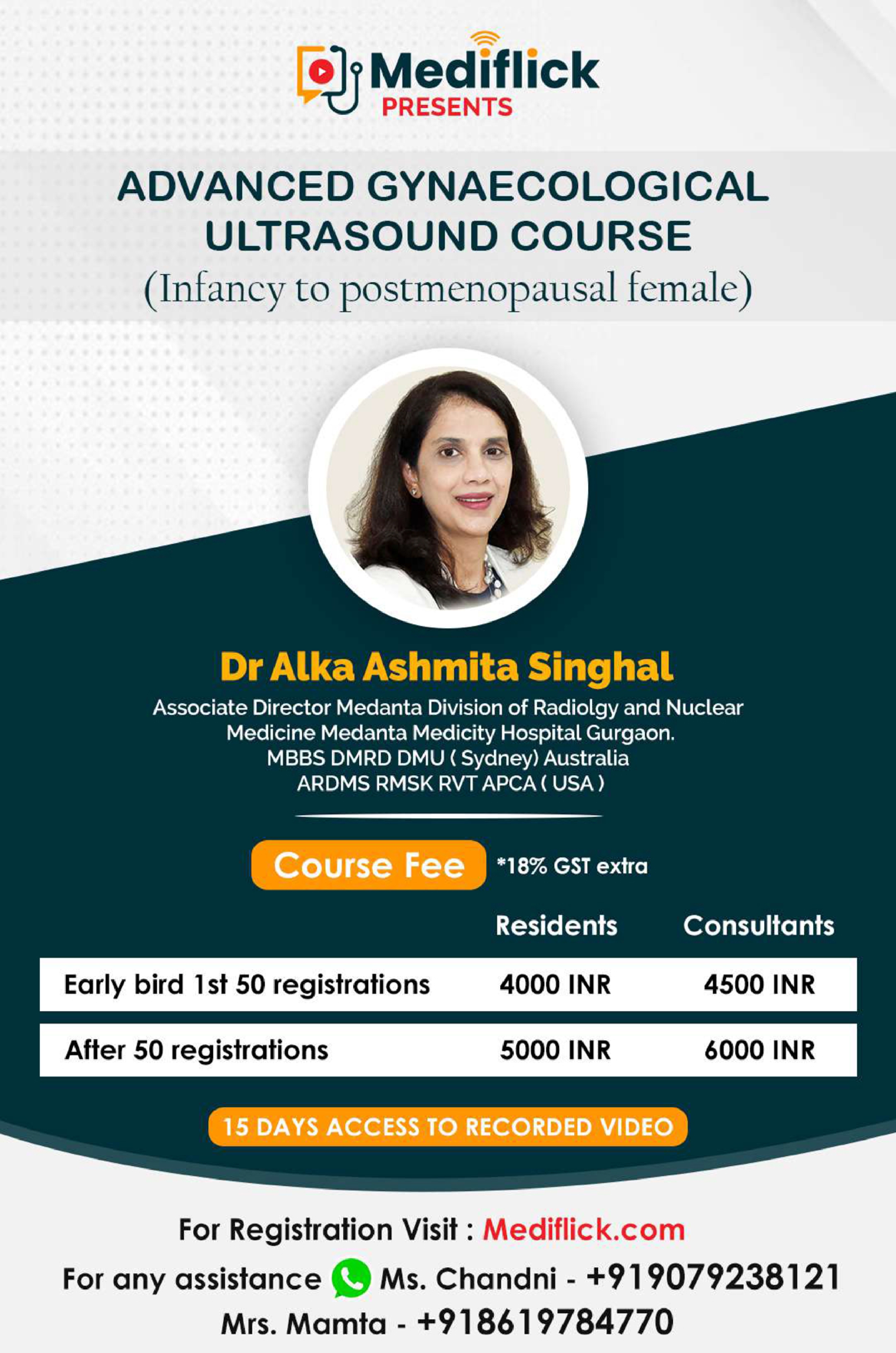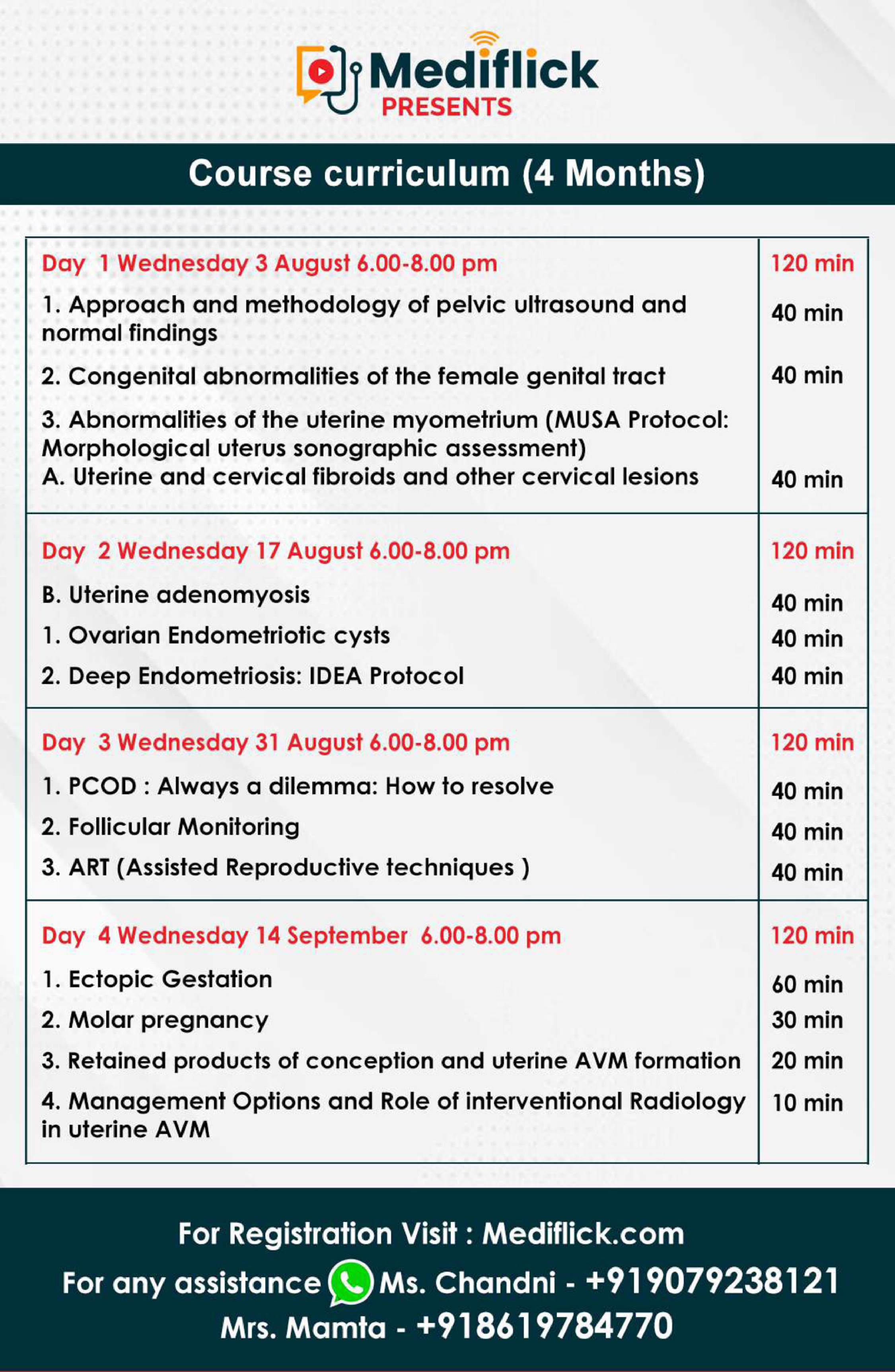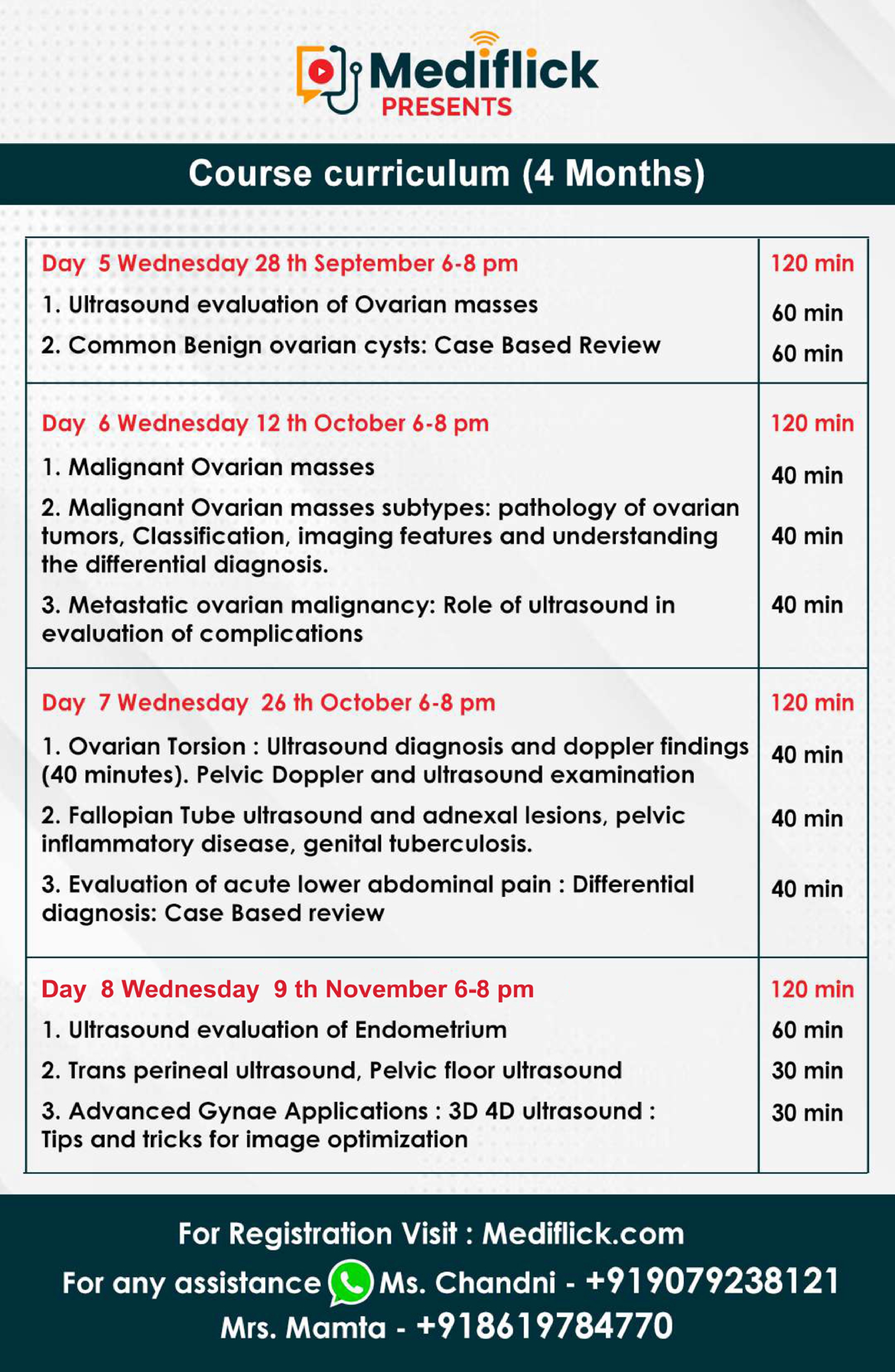 Advanced Gynaecological Ultrasound Masterclass
(Infancy to postmenopausal female)
Day 1Wednesday3 August 6.00-8.00 pm (120minutes)
Day 2Wednesday 17 August 6.00-8.00 pm (120 minutes)
Day 3Wednesday 31 August 6.00-8.00 pm (120 minutes)
Day 4Wednesday 14September 6.00-8.00 pm (120 minutes)
Day 5 Wednesday 28 September 6.00-8.00 pm (120 minutes)
Day 6 Wednesday 12October 6.00-8.00 pm (120 minutes)
Day 7 Wednesday 26 October 6.00-8.00 pm (120 minutes)
Day 8 Wednesday 9November 6.00-8.00 pm (120 minutes)
Day 1 Wednesday 3rd August 6.00-8.00 pm (120 minutes)
1 Approach and methodology of pelvic ultrasound and normal findings…….. 40 minutes
Overview, basics of ultrasound anatomy, types of ultrasound, patient preparation, patient positioning, transducer selection and preparation, Modes of scanning, transvaginal scanning protocol, common artefacts and image optimization, international guidelines of probe preparation for genital tract and disinfection, normal ultrasound appearances from infancy to post-menopausal age group
2. Congenital abnormalities of the female genital tract……….40
Basic embryology of the genital tract, Role of ultrasound in suspecting and diagnosing congenital abnormalities on B mode ultrasound, and further evaluation with 3D ultrasound imaging. Differential diagnosis, clinical implications: impact on fertility and current management options. Challenging cases. Paediatric female pelvis and Gonadal dysgenesis.
3. Abnormalities of the uterine myometrium (MUSA Protocol: Morphological uterus sonographic assessment)
A Uterine and cervical fibroids and other cervical lesions…….40 minutes
Fibroid Mapping (submucosal, intramural, subserosal, pedunculated) and FIGO classification. Clinical Impact of fibroids on fertility, menstruation and diagnostic relevance. Role of 3D ultrasound. Role of interventional radiology in management of fibroids.
Day 2 Wednesday 17th August 6.00-8.00 pm (120 minutes)
B Uterine adenomyosis ……….40 minutes
Ultrasound findings in adenomyosis and recognition of early subtle features on B mode ultrasound. Common differential diagnosis. Role of colour doppler and 3D ultrasound in diagnosis and management. How to detect adenomyosis evaluate the extent of the disease, to describe the ultrasound findings using standardized terminology. Evaluation of disseminated peritoneal endometriosis.
Ovarian Endometriotic cysts 40 min
Deep Endometriosis: IDEA Protocol 40 min
Day 3 Wednesday 31st August 6.00-8.00 pm (120 minutes)
PCOD : Always a dilemma: How to resolve (40 minutes)
Follicular monitoring (40 minutes)
Normal ultrasound appearances of ovaries and variation with the age and hormonal status of the patient. Ovarian reserve. Evaluation of uterine endometrium, Correlation with menstrual cycle, Antral Follicular count and follicular monitoring, Role of doppler in endometrialreceptivity.
ART (Assisted Reproductive techniques) 40 minutes
Overview of common ART. Role of ultrasound in ART (Assisted Reproductive techniques). Timing of oocyte retrieval and embryo transfer. Complications of ART.
Day 4 Wednesday 14th September 6.00-8.00 pm (120 minutes)
Ectopic Gestation (60 minutes),
Detailed ultrasound findings of various locations of ectopic pregnancy, Differential diagnosis, case based review, corelation with serum Beta HCG,
Molar pregnancy. (30 minutes)
Retained products of conception and uterine AVM formation (20 minutes)
Role of interventional Radiology in uterine AVM and expectations from ultrasound reporting (10 min)
Day 5 Wednesday 28th September 6-8 pm
Ultrasound evaluation of Ovarian masses (60 minutes)
International Ovarian Tumour Analysis (IOTA) and Ovarian-Adnexal Reporting & Data System (O-RADS)
Common Benign ovarian cysts: Case Based Review (60 minutes)
Follicular cyst, Haemorrhagic cysts, ovarian endometriotic cysts and dermoid cysts, and ovarian teratomas. Paraovarian cysts
Day 6 Wednesday 12th October 6-8 pm
Malignant Ovarian masses (40 minutes)
Ultrasound features of malignant ovarian masses: Pattern recognition and case based review, with further imaging and histopathological correlation of confirmed cases. Relevance of size and CA125 levels. Role of ultrasound as an early diagnostic tool in this silent killer neoplasm
Metastatic ovarian masses: Classification, imaging features and understanding the differential diagnosis. (40 minutes)
Metastatic ovarian malignancy: Role of ultrasound in evaluation of complications (40 minutes)
Day 7 Wednesday 26th October 6-8 pm
Ovarian Torsion : Ultrasound diagnosis and doppler findings (40 minutes)
Fallopian Tube ultrasound and adnexal lesions, pelvic inflammatory disease, genital tuberculosis. (40 minutes)
Evaluation of acute lower abdominal pain : Differential diagnosis: Case Based review (40 min)
Day8 Wednesday 9th November 6-8 pm
Ultrasound evaluation of Endometrium (60 minutes)
Evaluation of endometrial pathologies and IETA classification. Endometrial polyps, endometrial carcinoma, cystic endometrium, Localization of IUCD
Trans perineal ultrasound, Pelvic floor ultrasound (30 minutes)
Advanced Gynae Applications : 3D 4D ultrasound : Tips and tricks for image optimization (30 min)